Amazing Liz Handmade Soap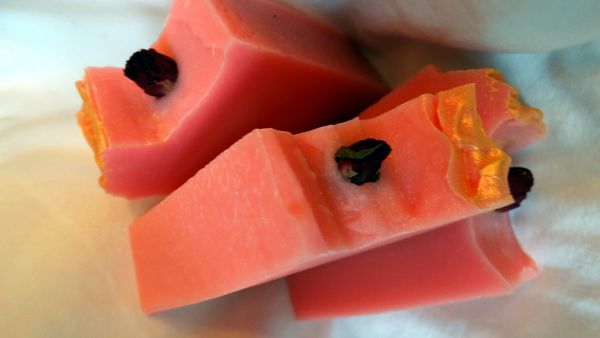 My sister-in-law asked me to create a soap that smelled like her favorite perfume, so here it is - Amazing Liz soap. This lovely clean and light scent has been a favorite with all my customers. Scented with Italian Bergamot and Sparkling Lemon, sweet freshly picked citron and neroli. Also while floral jasmine, orange blossom and rose and deepened with sheer musk and cedarwood. This lovely pink soap is topped with a dried rose but and is dusted with gold mica. Treat yourself today!
Treat yourself to natural handmade soap - it contains skin quenching oils and naturally occurring glycerin which is removed by commercial soap companies to make other products. I noticed a huge difference in my skin when I began to use my handmade soaps and I know you won't be disappointed.

Contains: Olive Oil, RSPO Certified Organic Palm Oil, Coconut Oil, Distilled Water, Sodium Hydroxide, Phthalate Free Fragrance, Castor Oil, Mica Pigment, Dried Rosebud