All Natural Essential Oil Blend Collection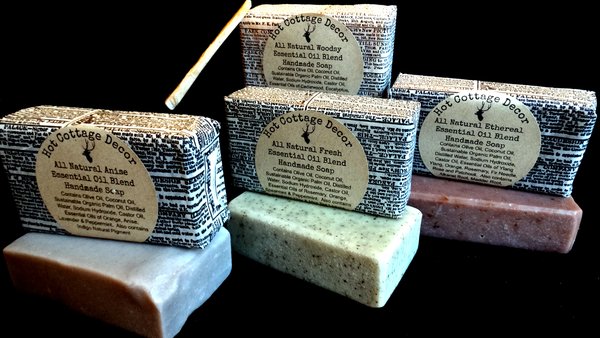 This is my All Natural Essential Oil blend Collection. I start with a soap base of Olive Oil, Certified Sustainable Organic Palm Oil, Coconut Oil, Water, Sodium Hydroxide and Castor Oil and natural colorants. I made this collection with men in mind as there is nothing perfumey about them, but women love their natural earthy scents too! Choose your from from the drop down menu:
Fresh: Essential Oils of Rosemary, Orange, Spearmint & Peppermint - also contains Cambrian Clay and Mint Leaves
Anise: Essential Oils of Orange, Anise, Lavender & Peppermint - also contains Indigo Natural Pigment
Woodsy: Essential Oils of Cedarwood, Eucalyptus, Lemongrass and Fir Needle. This is a very light and natural scent - also contains Annato Powder, Calendula and Turmeric.
Ethereal: Essential Oils of Ylang Ylang, Orange, Rosemary, Fir Needle, Rose and Patchouli - also contains Alkanet Root, Madder Root and Calendula.