Perfumer's Premium Coconut Wax Candle - Traveler's Scents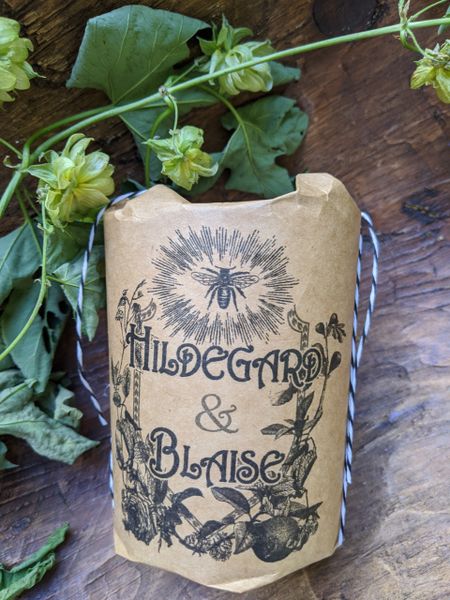 After ten years of candlemaking, studying perfuming, and going on sniffing adventures in boutiques in NYC  - I bring you my own scents. 
This candle has every detail carefully thought out. The ribbon wick is the cleanest burning wick I have ever used.  The all natural coconut wax blend is superior to soy and well worth the price.   The beautiful complex fragrances are carefully blended to evoke the feeling of being in some of the most beautiful and memorable place in the world.
The tumbler glass is reusable. Simply pour some boiling water into your finished candle and loosen the wick with a knife, or Popsicle stick and dispose.  Wash your glass out with soap and water and then wash in the dishwasher.  The packaging is minimal and recyclable. 11 Ounce @60 hour burn.
At Hildegard and Blaise we believe that candle burning is almost a holy ritual and part of the overall soul and decor of your home.  We are spending more time in our homes these days, so make your time at home a beautiful,  fragrant and special event. Take a scent journey.  
Candle Scent Descriptions:
Moroccan Mint Tea

You have just landed in Morocco.   You settle in for Moroccan Mint Tea.  Moroccan Mint Tea is made by pouring boiling water over fresh spearmint and tea leaves. Sugar is added and the blend is poured from a height of twelve inches into special ornate glasses.  The sweet, peppery and slightly spicy  mint tea fragrance  fills the air and is both cooling and deeply warming at the same time.  It's a panacea to a weary traveler.

Notes of Peppermint, Spearmint, Wild Mint, Gun Powder Tea, Egyptian Jasmine, Vanilla, Lemon, Clove and Cassis
Giardino Positano
Light your candle,  close your eyes and stroll through the lush gardens of the Positano coast of Italy.  It's a warm and breezy day.  The air is thickly scented with orange blossoms, tomato vines and climbing roses.  as you walk your feet crush  some wild mint and lavender.    The floral, green tomato vine and herbal scents intermingle to create the unique freshness of a lush  garden in beautiful Positano.   

Havana Streets
Havana is a city haunted with history and  bursting with change and growth.  The vibrant architectural  mix is the delight of this city.   During your  scent journey,  make sure you don't  miss the scent wafting out of the ancient church, or the cigar shop.   The warm air heightens your awareness of the fragrance of ancient structures.     The spirit of this city is reflected in notes of:  ancient woods, rich leather , Cuban tobacco, aged vanilla and a touch of intoxicating Cuba Libre Iris.