Premium Vegetable Wax Candles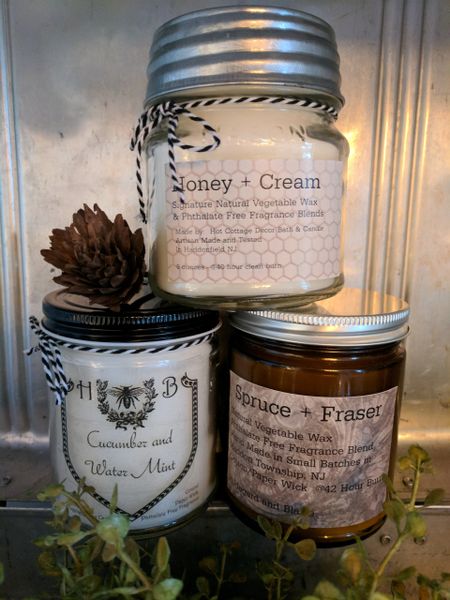 Candles are Hildegard and Blaise's specialty.  We start with natural vegetable wax (Coconut and Soy) and only use Phthalate free fragrances and natural wicks.  Candles scents are either curated from over a dozen premium fragrance companies or are custom blended for scents only available from Hildegard and Blaise.  You can acquire scents such as "Blood Orange and Tomato Leaf", "Honey and Cream", "The Air Before the First Snow", "Cucumber Water Mint","Suede and Wood Smoke" and "Grapefruit and Peony".  If you are a candle snob or are just tired of the same old scents, Hildegard and Blaise will not disappoint.  Candle jars are 8 oz. sized jars as shown in the photo and will burn clean and long.  Please peruse the drop down menu to find the perfect candle to elevate the ambiance in your home and add that special glow.  Scent categories are as follows:
Hygge - Enjoying the laid back and relaxing comforts of home.  Laying with a wool throw blanket in front of a fire, enjoying a waft of evergreens, clothesline dried sheets, eating warm cardamom rice pudding, enjoying a log cabin life style with no fuss and getting back to the simple pleasures found in nature.
Green Herbal - Bringing the Herb Garden inside.  Ripping a leaf and letting that clean green scent invade your senses.  
Citrus/Fruit - Citrus and Fruit based scents for when you need an uplifting, tart, juicy and energizing and happy scent to fill your home.
Coffee, Tea and Beverage Scents - Scents like Espresso and  Black Tea with Vanilla and Rose, or Mint Mojito.
Floral Sophisticates - Bring the flower garden inside, or feel like you have filled your home with fresh flowers.  There are some really bad florals out there, but we have taken care to find the most beautiful florals that are balanced out with fruits or greens and woods for a fresh and royal scent that will not disappoint.  Florals are in again, but good florals were never out.