Recycled Bottle Candle with Crackling Wood Wick - Wine and Wood Scents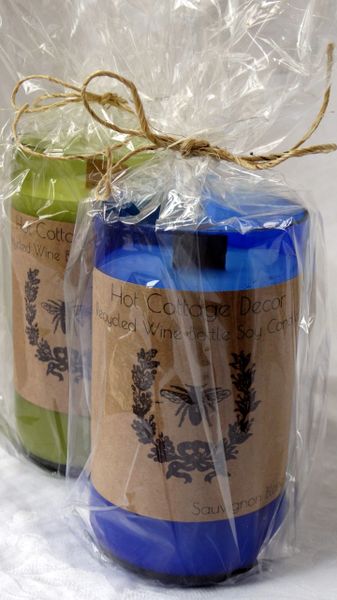 I am very excited to bring you these rustic hand cut and hand sanded recycled bottle candles that hold at minimum 12 ounces of soy wax (most have much more).  The Candles have a wood wick that crackles lightly when it burns.  Each candle is unique. Color and height of cut bottles will vary. I cut them as high as I can - for a generous candle that is special and unique.  They make fantastic gifts for the person that has everything and for wine lovers.  Each candle comes gift wrapped in clear cellophane and is tied with twine.  Though it is not noticeable, the cellophane has holes in it so the candle can be sniffed through the bag.  Please light this candle at the base of the wood wick - where it meets the wax.
I searched and tested before bringing you these complex and amazing scents:
Chardonnay
- A fruity, white wine bouquet with top notes of white peach and strawberry. The heart blends sweet violet and lily of the valley with fresh melon and rose blossom. The base is a woody violet, sweet balsamic & white musk. Well rounded and complex, this Chardonnay fragrance oil offers a rich aroma without being heavy on the alcohol notes. 
Sauvignon Blanc
- Sauvignon Blanc is crisp, clean, herbaceous - a great spa type, unisex scent. Subtle orange and leafy green mingle with delicate jasmine and violet with a finish of petigrain and field lilies. No perfumey notes, fresh rather than fruity or sweet. This candle will appeal to both men and women and most age groups. This scent is refreshing - like a mellow glass of wine on a hot summer's day.
Good Vintag
e - Notes of juicy pineapple, succulent raspberries, sweet strawberries and crisp green apples dance merrily with bergamot and hyacinth upon a base of spicy cinnamon, creamy vanilla, and rich woods. Fresh, sweet, fruity, earthy - no perfumey notes. Just like a glass of robust vintage wine.
Zinfandel
- Zinfandel is a variety of black-skinned wine grape and is planted in over 10% of California vineyards. It is genetically equivalent to the Primitivo variety traditionally grown in Puglia (the "heel" of Italy), where it was introduced in the 18th century, as well as to the Croatian grapes Crljenak Kaštelanski and Tribidrag. The grape found its way to the United States in the mid-19th century, and became known by variations of the name "Zinfandel". Smelling just like its namesake, this candle will appeal to wine aficionados as well as those who just love distinguished fragrances. Sweet summer raspberries, tart cranberries, juicy oranges, and green apples are balanced with a hint of jasmine atop a base of creamy musk, airy violet, and subtle rose. The end result is a bit fruity, a bit floral, a bit earthy.....just like an outstanding bottle of red wine. 
Oud
 - Exotic Asian Oud wood is balanced and blended with cedar, precious ambrette seeds, green rosemary, delicate jasmine, baby orchid, gala apple, dark olibanum, black musk, earthy patchouli. Deep and rich, this scent is mysteriously enticing and blissfully earthy.
Rosewood
- Aromatic, richly hued rosewood timbers are balanced with nuances of cassis, Otto rose, green olive, cassia bark, rich cedar, black amber, soft sandalwood, and sheer musk.