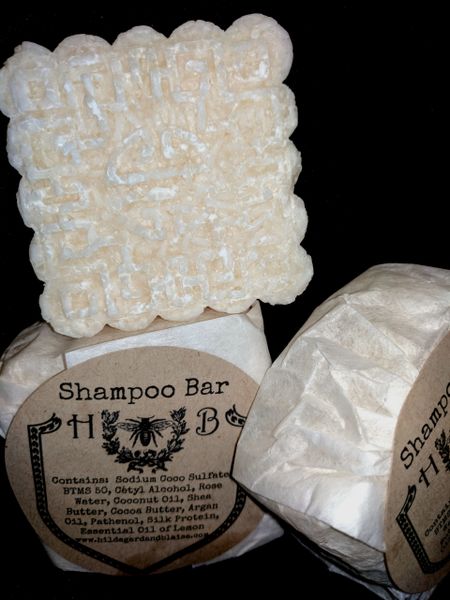 This is something I bring to you after years of trying every shampoo bar recipe out there and having terrible results for my hair (even a best selling shampoo bar from a popular store).  I now bring you this shampoo bar that I am so happy with!  It contains a very mild surfactant derived from coconut for lather and cleansing, and luxurious ingredients like Shea Butter, Rose Water, Argan Oil, pro vitamin B5, wheat protein and cocoa butter to spoil your hair. I also use essential oil of lemon for shine.   I am so pleased with the results on my own hair and I think you will be pleased as well.  I have tested this new recipe on my friends who have hair of all types and they are all raving.  The best ingredients made the difference.  One of the benefits of a shampoo bar is so much less plastic in the world.  It's also nice not having big shampoo bottles all over the shower.  I will never go back to liquid shampoos.  The shampoo bar is long lasting (longer than a bottle of shampoo) and just needs to dry out in between use, so please make sure it is on a soap drainer in between shampoos.  
How to use:  Lather up in your hands and apply lather to your scalp - concentrate on cleansing your scalp and the rest of your hair will be sufficiently cleansed while you rinse.   You can also rub the bar on your scalp directly if you prefer and add more water to you hair and it will lather more. You can use the bar very sparingly and get lots of lather for an excellent shampoo.  Condition if you normally would.  Bar weighs approximately 3 ounces.  Great for travel!
Ingredients:  Sodium Cocyl Isethionate (a mild surfactant derived from coconut Oil), Behentrimonium Methosulfate (a vegetable based conditioning emulsifier), Cetyl Alcohol ( a fatty alcohol used as an emulsion stabilizer), Rose Water, Coconut Oil, Shea Butter, Cocoa Butter, Argan Oil, DL Panthenol (Provitamin B5), Hydrolyzed, Wheat Protein, Essential Oil of Lemon, Phenoxyethanol and Caprylyl Glycol.